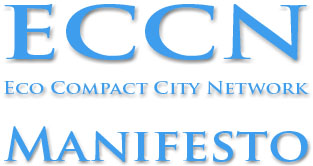 ECCN is a network of Cities, Institutions, Centers of Research, Developers, Architects, and Engineers interested in developing the culture of the COMPACT CITY. The aim of ECCN is to spread the culture of ECCN and constantly update the state-of-the-art of the COMPACT CITY in order to offer the best solutions to the development of an urban environment in balance with the natural one.
ECCN organizes every year:
1 international exhibition
1 international conference
1 publication
The conference is intended to let ECCN members present and discuss a series of case-studies. The exhibition displays the best examples of Compact Cities built and under construction, as well as the best projects of future Compact Cities. The publication covers the exhibition together with a selection of essays dedicated to the culture of the Compact City. Every year a city is selected as ECCN host-city. It organizes both the conference and the exhibition.



ecocompactcity.org